We Work With Physical
And legal entities
Aluminum Awning Structures
Any Buildings For Your Business
From Steel Structures
Working With Steel, Wood And Concrete
Applying Hot Dip Galvanizing To Your Objects
High Construction Speed
Saving Budget
Completeness of deliveries
I am proud to represent our Company because
that the quality of our work is at a decent level. Our
the team is dedicated to work and we take care of it.
Why you should choose ASTRA metalwork plant
As a Prefabricated Building Supplier?
There is no universal answer to this question.
We offer customers what we have right now, product reliability and value for money can be the first three answers. A full cycle of work, durability and high quality are three more.
But to be honest, each of our clients has a unique answer, and each project has its own story. However, there is one thing that includes all the benefits if you choose us for your project: this is our process.
We solve your problem completely.
We do not waste your time.
We will provide you with exactly what you want and even better.
Steel structures plant ASTRA - design and construction of buildings from metal structures
Tons of structures per year
ASTRA metalwork plant - innovation, high quality,
customer orientation

Partner for both modest and ambitious projects
From sophisticated awnings or canopies to office spaces, from small warehouses to industrial sites, from reliable fire escapes to pedestrian bridges.
With us, the Client's business also earns!
Our key competencies in the production and design of metal structures allow our Client to always save budget, deviating from established design solutions.
We always tell clients that if we get involved in a project at an early stage, we can reduce the client's costs by more than 20%. Also at the design stage and work on the proposal, we guarantee the invariability of the preliminary cost estimate.
We are not the cheapest company and the price is not our competitive advantage. But, the quality of the product, proximity to the client, consulting services, neutralize the influence of "price" on the final choice of the buyer.
Keeping pace with the times - innovating for the future
The latest developments, such as modern lightweight prefabricated structures and optimization of the Client's costs for the production of metal structures, allow achieving a high degree of factory readiness and savings. Low weight of structures, absence of welding processes on site, reduces installation time and guarantees consistently high quality and budget savings.
Frequently asked Questions
FEEL FREE TO ASK QUESTIONS TO GET ALL THE INFORMATION YOU NEED!
Yes, at the stage of the commercial offer, we immediately make accurate calculations and take into account all risks, therefore our cost of the object does not change in the course of work, with the exception of the influence of external price factors on materials during the construction period.
No, we do not work on ready-made projects, for example, the KM section, because we cannot guarantee the efficiency of such a building. And also mistakes of third-party designers during the implementation of our project are excluded.
We provide this service free of charge, you only need to send your project for analysis.
OUR PRICES ARE ALWAYS REASONABLE BUT
YOU CAN SAVE MORE!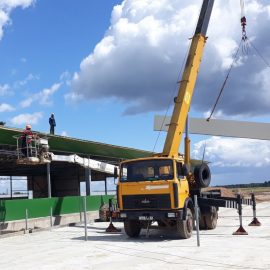 UNTIL THE END OF THIS MONTH
ЗМК "Астра" — Минский завод технологических металлоконструкций
Завод металлоконструкций Астра уже почти 10 лет занимается строительством объектов из металлических конструкций. Мы производим экономичные, лёгкие, и прочные сооружения из металла, которые после можно...
Магазины и павильоны из сэндвич-панелей
Строительство из сэндвич-панелей в последнее время стало очень популярным ввиду простоты метода и огромных преимуществ материала. Изготовление быстровозводимых торговых павильонов из сэндвич-панелей Торговые точки возводятся...
No Company can please everyone and work for all Customers
therefore, we DO NOT work:

WITH IDIOTS

WHO WANTS "CHEAPER"

WITH INTERMEDIARIES

WHO NEEDS "YESTERDAY"